All change!
It is healthy for a business to look at where it is heading. In 2021 we undertook a strategic review and concluded that we needed to update the way we presented ourselves to the outside world.
Our business is changing and our logo and website needed a refresh as they no longer represented the image that we want in the marketplace.
Brand refresh
Our brand, that is our logo and the colour palette we use for printing and on the website, underlies all our communications, both external and internal. We felt it needed updating so we appointed an external agency to review it and recommend changes.
The first thing to update was the font we use for our name in the logo. The agency retained the serif effect (a serif is the small decorative stroke that decorates the end of a letter stem) but suggested a font that had a more modern feel. The result is a simplified logo that makes the Fiske name stand out more.
We also identified that we wanted a fresher and bolder colour palette. The consultant selected colours that took inspiration from London's traditional financial district and the UK countryside. These created a stronger colour palette that works well across all our visual materials.

Website
Armed with the new logo and colour palette, we were ready to design our updated website. We wanted it to look more modern and to engage with our existing clients as well as attract new ones.
We spent some time looking at best practice and understanding exactly what we wanted to communicate. As a result, there is a completely new website navigation and page structure. Our core services are now very much to the fore, making it much easier to find the information our clients need. To make our team more approachable we have included photographs and brief biographies of our investment and client-facing teams. For first time visitors there are appropriate contact people on various pages across the site. New imagery makes the site brighter and gives it a more consistent "look and feel".
We have also ensured that the new site is useable by people with accessibility requirements. We use clearly marked up navigation, large icons and the images include alt tags (short written descriptions of the images) for those with sight issues.
We launched the new site in May. It has transformed the way that we represent our business to our clients and business partners. Since the site is modular, as we continue to evolve our service model, we will be able to update the site to reflect new changes.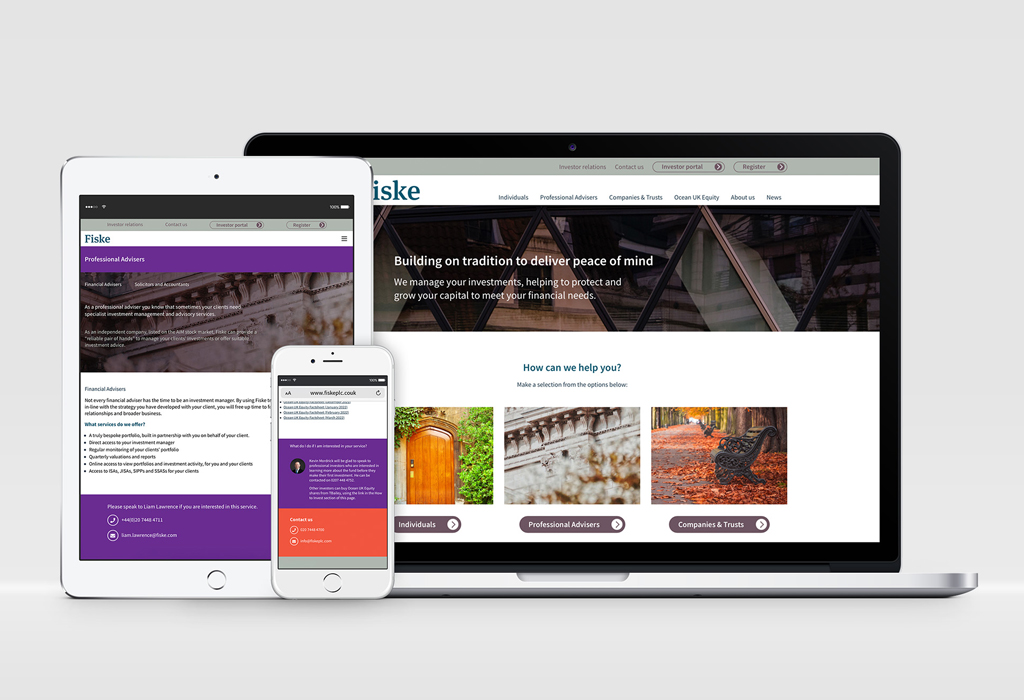 New office
Our updated branding and the new website are symptomatic of wider changes in the business. We continue to broaden the skill set of the Fiske team to offer individuals, families, trusts and charities a more complete set of financial services. We have also moved offices.
We had been located at Salisbury House on Finsbury Circus since 1975, just two years after the company was founded. The offices served us well providing a base and hosting many thousands of client meetings. But we need more flexible premises to house our growing team, so we decided to relocate.
In March we moved into a new office at 100 Wood Street. It is only a few hundred yards away from our old location and we look forward to meeting many of you there over the coming months.